Top Ten Live Shows of 2008
Happy New Year everyone! This is definitely a personal list for me and I hope you'll find something to take away from it! I'd like to hear about some of your favourite shows from the past year as well so please don't hesitate to comment!
It was really hard to choose just 10 shows for this list because my 2008 calendar was filled. Not only had I been to a lot shows, they also spanned many genres, which made it that much more difficult to narrow them down. Rather than say more than is necessary I'll add here that these 10 performers were chosen for their exceptional musicality, their dynamic within the group and with the crowd and their shear presence on stage and palpability.
*all photos were taken by me unless otherwise credited. you can view more of my photos here.
10. Golden Triangle
Golden Triangle is an unstoppable force of rhythmically driven tracks that allow for effortless and almost unknowing crowd participation. You'll be moving around in a possessed state of mind before you know it. I also love how they jump into the crowd after their set to dance to whoever is up next. Awesome.

Golden Triangle – Night Brigade
[zshare] [savefile]
9. The Naked and Famous
I had actually never heard of The Naked and Famous when I saw them live. They played a show at The Delancey with a band I was already going to see and all I can say is that I'm glad I got there early. I don't know when they'll be back in the States but you can catch them in their hometown of Auckland, New Zealand.

The Naked and Famous – Bells
[zshare] [savefile]
8. Uh Huh Her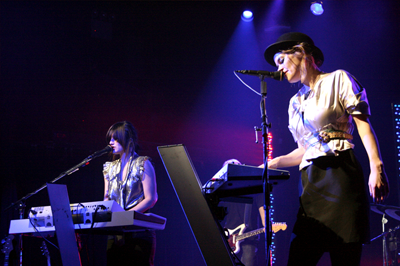 Dueling synthesizers. It doesn't get much better than that. But then you start to pick out the complexities of Uh Huh Her's layered tracks on their latest release, Common Reaction, and realize their affinity to maintain the integrity of the tracks when they perform live. Suddenly, they become living, breathing, and evolving entities that seem authentic and unique each time they play them.

Uh Huh Her – Common Reaction
[zshare] [savefile]
7. Lissy Trullie
Lissy Trullie may very well be New York's underground sweetheart. Her voice drips over her comfortably familiar melodies with an unparalleled sense of honesty. She is familiar in a way that evokes the past but she is fresh. Go see her now while you can because I fear when her album drops you won't be able to say you saw her way back when.

Lissy Trullie – Self Taught Learner
[zshare] [savefile]
6. Bad Brilliance
Able to leap tall buildings in a single bound, Bad Brilliance is here to show you a good time. He is so good that he'll get that one person in the back of the room to dance. You know the one I'm talking about. Alone, huddled over a drink with a brooding look on their face. Totally done for. Also, you never know who will show up and join Mr. Brilliance on stage. Andrew W.K. and Chris Glover have appeared with him in the past. He'll let you rub his balloon head too if you're nice.

Bad Brilliance – Bad B 2 Track (Demo)
[zshare] [savefile]
5. Terror Pigeon Dance Revolt
Terror Pigeon Dance Revolt is just that. They thrive on crowd participation and they throw the best dance parties I've ever been to. Hands down. Expect to see a bunch of crazy costumes and be prepared to wear some of them because they bring enough for everyone. They also have their own lighting scheme for each song and props to go along. They're heaps of fun!

Terror Pigeon Dance Revolt – Snowday!
[zshare] [savefile]
4. Bang! Bang! Eche!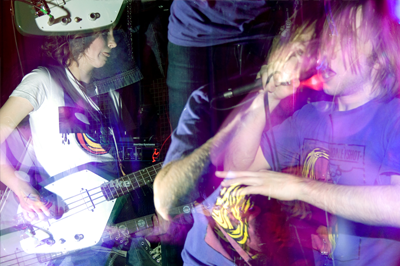 Thanks to their wonderful management I caught Bang! Bang! Eche! in New York City during CMJ at The Delancey. Straight from New Zealand they were a breath of fresh air with their mash up of Dance/Punk/Pop. Their carefree and energetic stage presence had everyone buzzing.

Bang! Bang! Eche! – Fingers In The Till
[zshare] [savefile]
3. Liquid Liquid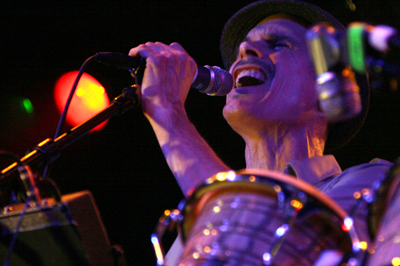 80's post-punk was alive and well this past November when Liquid Liquid came to Santos Party House. They played an ultra rare set to a packed house and left everyone wondering when they would return. I hope this isn't the last we see of them. Truly amazing!

Liquid Liquid – Cavern
[zshare] [savefile]
2. Quintron and Miss Pussycat
The Drum Buddy + Puppets. Quintron and Miss Pussycat combine homemade drum machines/samplers/synths with theatrical elements including puppets. Crowd participation is a must! And look out because these two love somersaulting off the stage.

Quintron and Miss Pussycat – Waterfall
[zshare] [savefile]
1. Gang Gang Dance
And the best show I saw of 2008 was Gang Gang Dance. Tribal rhythms meet atmospheric dance tracks. They will put you in a euphoric trance and you'll never want to go home. There are no words.

Gang Gang Dance – Blue Nile
[zshare] [savefile]
Posted by

Jon

Posted in

Andrew WK, Bad Brilliance, Bang Bang Eche, Danielle, Gang Gang Dance, Golden Triangle, Liquid Liquid, Lissy Trullie, Quintron and Miss Pussycat, Terror Pigeon Dance Revolt, The Naked and Famous
Jan, 02, 2009
No Comments.
---